What is an Automatic or Auto Bid Limit?
Posted by bidorbuy Admin, Last modified by Johan Du Toit on 13 September 2016 03:06 PM
An Automatic Bid, along with an Auto Bid Limit, allows the auction system to bid on your behalf up to the maximum amount that you specified, if necessary. This amount is the maximum amount that you, the buyer, are willing to pay for an item. It is kept confidential and will only automatically increase (up to the maximum that you set) if it is required to do so for you to win the auction.
To activate the Automatic Bid, just enter your maximum bid amount in the "Set an Automatic Bid Limit" box. The system will NOT bid on your behalf higher than the bid amount placed in this box.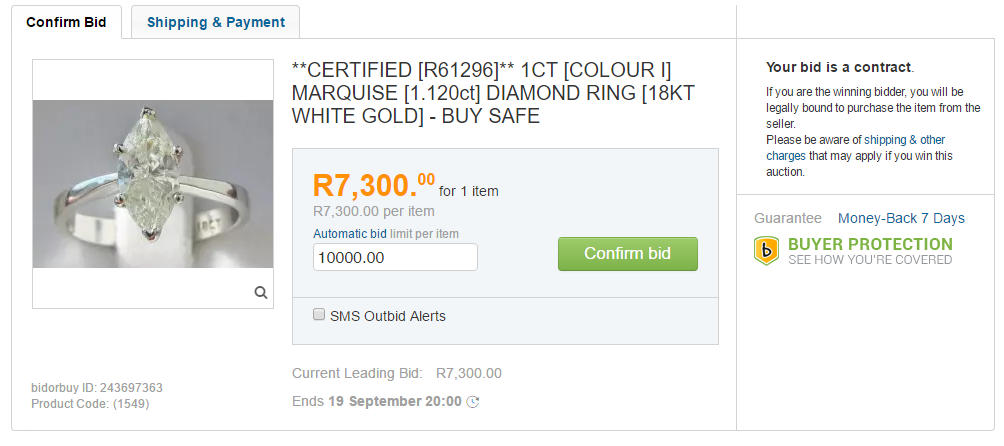 Automatic Bid is an optional facility. If you activate Automatic Bid, you do not need to be online to bid for and potentialy win an item you desire. The system will bid for you if necessary by the specified bid increment amount to the limit of your Automatic Bid. Please note that the Automatic Bid system will only bid for you when you have been outbid or to meet the reserve price at the end of the auction. You will receive an email notification every time the Automatic Bid bids for you.

Following is an example of how the Automatic Bid feature works:

Lets say the starting price is R100
Bid Increment Amount - R10
Reserve price (not visible to you) - R150
Current Bid Amount placed by you - R110
Automatic Bid placed by you at R200
In case you are outbid, i.e. someone bids higher than you, Automatic Bid will bid for you matching the bid that outbid you (provided it is below the limit you set) making you the current winning bidder. Therefore if someone bids R120 on the item, Automatic Bid will automatically increase your bid to R120 making you the winning bidder. Assuming nobody else bids more than you now and the auction is closing with the reserve price not met, then Automatic Bid will bid R150 to meet the reserve price (because this is still below the R200 limit that you set).

Note that bids are ranked in the following order, first amount, then quantity, then time. This means that if you use an automatic bid and some one outbids you, you will be the winning bidder at the same amount and quantity because your Automatic Bid would have been placed before their bid ( i.e. you would win on time).

You can now sit back and let the Automatic Bid feature do the bidding for you.
---